Don't have the time to volunteer but would like to help in some way? You can help by donating money to support our mission.  Your donation goes towards charitable causes such as scholarships for the brilliant but needy students or feeding costs for children in orphanages, building of computer labs, public toilets and other projects to benefit local communities as well as building repairs for orphanages, schools and hospitals.
Sponsor a Child's Education:
An amount of 1000 US dollars will give 5 children a year entrance to quality education in Africa. S.A.V.O in collaboration with the communities, schools and families raising the voice of these children in Ghana, The project provides opportunities for donors to get in direct contact with these poor communities, the children, and the schools to enable them to keep track of their donations.
Samba Africa includes volunteers from abroad into the management of these funds.
They act as representatives of the donors in Africa and submit monthly, quarterly and annual reports to the donors regarding their contributions, the children's academic performance and general welfare. You can be assured that your money is making a huge difference in Africa. Any donation towards this project is welcome and it would make a great difference in the lives of these deprived kids.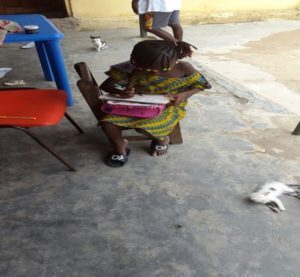 Sponsor a Child:
No country in Africa is exempt, and S.A.V.O is focusing most of its resources to take care of the children who have lost both parents to HIV/AIDS. SAVO – Ghana is therefore inviting you to be part of this project. A minimum of 30 US dollars every month will feed these orphans. You can send your donations through us (Pictures would be provided). We can help you volunteer in the same orphanage you donate.
Food:
Samba Africa voluntary – GHANA is working with lots of orphanages, HIV/AIDS homes and children's homes who are in dire need of food. Join us to end this hunger. It is really sad to see these orphans crying for food. Tell these orphans, street children, and HIV/AIDS homes that there is someone out there who really cares and loves them. The cash you send us can be used to buy food for these orphans, or you can send us food to be given to them. A minimum of 10 US dollars a week will feed these children.
Toys:
SAVO is working very closely with orphanages, child health homes and day care centers that are in need of toys. Please share your love and concern for these poor children by donating toys. You can't imagine the great difference you will make in the life of a child just sending one toy to an orphan. We need those old and new toys for these orphans. You can send your donations through us (Pictures would be provided) Contact us for details regarding shipping.
Money:
Samba Africa needs more help from you to enable its noble projects in Africa to be carried out successfully. You are invited to be part and parcel of these projects in Africa. Once we receive your donation you will become a full member of SAVO – GHANA. Whatever amount you donate towards any of our projects will be put into judicious use and weekly, monthly and quarterly reports will be promptly sent to you. The management of your donation towards our projects is handled by foreign volunteers who send you reports regarding the use of your donations.
You will also have the opportunity to visit the project site to see the empirical evidence of your donation towards the projects. Your full membership gives you the chance to attend our meetings regarding projects in Africa.
You can make the difference on deprived children and communities today. Help us help those who are deprived today. Make a mark to help deprived children and communities. We accept
Cash
Computers/ Laptops for schools
School supplies (books, pens, pencils, paper).
Clothing, toys, footballs, used bicycles etc for children at orphanages.
Medical supplies for outreach programs in rural communities such as condoms for STD prevention and birth control, wheel chairs for the disabled, etc.
      Fundraising
Your donation and efforts to help us fund raise are greatly appreciated. Without your support, we would be unable to complete the work we are doing.  Thank you!
You can send your donation as in cash through Western Union, Money gram or contact us: info@sambaafricavoluntary.org  for info on child sponsorship, supporting a school building project, water project and more.