Program Summary
To regard Ghana as being one of the friendliest countries on the planet, you will have a great chance to discover a fascinating place steeped in history, culturally diverse, stunning coastlines, savannah and rainforest while volunteering to help Ghanaians in need.
In many areas of Ghana, thousands of families live in inadequate accommodation and children attend school in crumbling buildings. Our construction project allows them to move to new, better quality homes and for the children to receive an education in secure, new classrooms.
We are currently expanding all operations in Ghana due to the success of this volunteer building program in Africa.
* Samba Africa Construction work is a volunteer building project in Ghana, which main objective is to help with the ongoing building and renovation projects in Ghana.
* There are normally several projects on the go at once ranging from building brand new learning centers from scratch, to helping update existing sites, things like running in power supplies (both solar and electric) and general renovation work are all possible.
* If you are a fully qualified brick layer or plumber, or just want to lend a hand and don't mind getting your hands dirty then this worthwhile project is for you.
* We are also interested in hearing from architects, civil engineers, etc. as there are also building construction project management opportunities for those who can spare the time.

Program Highlights
The day starts early with breakfast in the Volunteer home, Host Family, then off to work at your project. They tend to start early so as to make the most of the cooler times of the day and then in the hotter afternoons the time is used to plan for the next day and logistics resupply etc.
Depending on your experience, needs and background, you will be allocated to a project that suits Volunteer. Each volunteer has the opportunity to talk to Daniel, the Project Coordinator before they start their placement. He will ensure that you have a clear understanding of the needs of the projects and that you are fully prepared for your program and life in Ghana.
The buildings are usually made from Sand blocks, mud bricks that are produced by using a press, some mud and water, and then left to harden in the sun.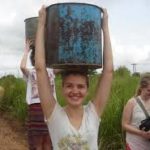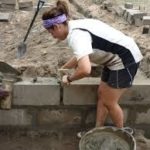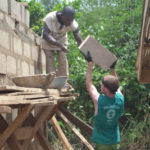 Volunteers will help improve infrastructure throughout communities, focusing on children's homes, clinics, community centers, toilet facilities, and schools. Volunteer tasks will include painting, brick laying, plastering, digging, block shaping, carpentry, steel bending, mortar mixing, and much more.
During your stay, volunteer also may have the chance to meet chiefs and community elders who will teach you about the different cultures within their communities. You should enjoy the outdoors and have a good level of physical fitness to truly enjoy this placement.
Volunteer will join a team of volunteers and local people constructing and renovating buildings in the local communities.
The working week is from Monday to Friday, and you are welcome to explore the surrounding area on weekends, or just relax with your new friends.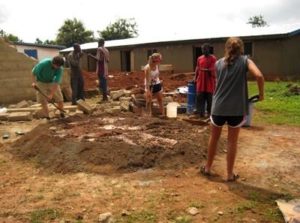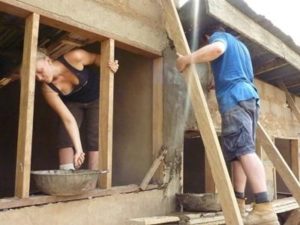 • Role: Contributing to developing communities by learning how to build walls, plaster, mix mortar, lay blocks, Paintings and more, for schools, libraries, and homes.
• Requirements: None
• Placement locations: Cities/Rural Areas
• Role: Helping to construct and renovate buildings for local communities
• Requirements: None
• Accommodation: Volunteer Home/ Host family
• Start dates: Flexible