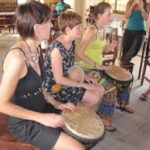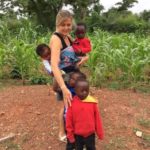 "Akwaaba" means welcome to Ghana the land of gold, and the gateway and heart of West Africa! Ghana's history started almost 2000 years ago – mainly trade in gold, salt, kola nuts and ivory existed among Ghanaian's and sub African states, this brought Europeans to the shores of Africa and to the country formerly called Gold Coast.
Samba invites you to come on an unforgettable trip to the land rich in history, culture and tradition. Meet Ghanaians – noted for their warmth, hospitality and friendliness.
Volunteers will experience sites steeped in history and bustling markets with exquisite arts and crafts.
Sambas cultural immersion project offers many volunteers the opportunities to explore the villages and experience the cultural attractions assisting them to obtain knowledge of facts about the local culture and customs.
Programs lineup!
FIRST WEEK (TWI LESSONS) Volunteers would be taking through a week of Ghanaian language (Twi) lessons with a professional Twi teacher. Lessons included: History of Ashanti's kingdom (golden stool) and Ghana. Ghanaian local names and dates of birth Social and common words used in daily activities.

CULTURE AND LANGUAGE WEEK PROGRAM
DAY 1
ORIENTATION
Welcome to SAVO-Ghana: Major facts about Ghana and the projects, host family, culture and profile of the region and necessary health precautions.
DAY 2
CLASS BEGINS
The manner of Ghanaian greetings, conditions, age, introduce and identify people; phrases qualify and quantify people and objects, numbers etc. Visit the market and interact with the local community in free time.
DAY 3
CLASS CONTINUES
Colours, Weather, feelings, family, making request and commands with informal future tense, training, shopping and bargaining.
DAY 4
CLASS CONTINUES
Days in Ghanaian and their names/day of birth.
DAY 5
SIGHT SEEING
A visit to the historic attraction centers, Ashanti palace museum, military museum, craft shop and principal streets etc.
DAY 6
CLASS CONTINUES
Parts of the body, physical expressions, etc
DAY 7
CLOSING
Closing of Ghanaian language and culture program.
SECOND WEEK
ARTS WORKS (Teach volunteer how to play African drum, volunteers will learn how to Dance to African music) Visiting Arts centers to Perform and also volunteers will be teach how to make wood crafts work,
Volunteers would be transferred to a local historical village of Bonwire. During the village stay, volunteers would be staying with a local host family where they would have the advantages of practicising their language lessons with host family whiles observing the rural village life of Ghanaians and Africans.
Participants will also engage themselves with learning the ancient way of cooking / preparing meals, palm wine tapping, farming with a local host family, joining a community durbar, weaving of the colorful / popular kente cloth. Volunteers will be taking through trip sessions to the nearby villages. SAVO encourages all volunteers to apply for this project alongside their chosen projects in Ghana. This project would be supervised by a well-trained SAVO staff.
Security& Safety
Your well-being while volunteering with us is our priority. We make sure your trip is safe and SAVO– Ghana staff will provide whatever support you may need at any step along the way. We see to it that work being done at our projects is genuinely worthwhile and that it will have a positive impact on the aims of the project. We also save time in checking the legitimacy of the project and ensure a safe working environment for you.
Benefits to you
Samba Africa-Ghana travel experience offers you the chance to work on a volunteer project overseas. It offers you the simplicity of a package holiday with all the rewards of independent travel. A donation is made to the project, orientation, placement, assistance and adjustment, program and volunteer co-ordination/ staff support.
We assist in medical care in case a volunteer falls sick during his/her stay in Ghana.

Program Fee
Length of stay         Fee payable
2 weeks         $700 USD